Live Design Excellence Awards 2014 Winners Using CHAUVET Professional Lighting!
Posted on May 9, 2014
Did you see the winners of this year's 2014 Live Design Excellence Awards?  Two of the winners of this year's award used lots of CHAUVET Professional lighting fixtures to accomplish their award-winning designs.  Major congratulations go to Blackout Design for Premier Tech's 90th Anniversary event, and to the Solomon Group for their reno of The Civic Theatre for winning the award this year!
Let's look at Blackout Design's work for Premier Tech's event:
In addition to their inventory, Blackout Design used 26 of CHAUVET Professional's Legend moving heads to complete this design.  From the article at Live Design regarding the award-winning event:
The moment had to be magical. For its 90th anniversary, Premier Tech wanted to build an event that will unify all their employees and partners. Something unique that would create a sense of pride and put forward the miding of Premier Tech. BlackOut Design has unveiled a structure which represent the image of collaboration and teamwork.
Check out the Blackout Design website, they have wonderful work!  Also, here's a video of the Premier Tech event from the Blackout Design website:
90 ANS DE PASSION from BlackOut design on Vimeo.
Also winning a Live Design Excellence 2014 award this year, The Solomon Group was awarded the prize for their excellent refit of the Civic Theatre in New Orleans, a place that is thought to be the oldest standing theatre in New Orleans.
From the article at Live Design:
The result?  Though the conversion took just one year, event planners from all over were clamoring to use the Civic Theatre even before work was complete.  Two months after opening, Comedy Central used the venue to tape live, one-hour stand-up specials for comedians Steve Rannazzisi, Neal Brennan and Chris D'Elia across three consecutive nights.  In July 2013, the Civic hosted a corporate event for William Grant & Sons during Tales of the Cocktail, which BizBash calls one of the "Top 100 Events in the United States."  TED, the nonprofit known for "Ideas Worth Spreading," chose the Civic to host its third-annual TEDYouth Conference.  And NYC concert promoters The Bowery Presents partnered with the Civic Theatre to launch perhaps the most aggressive concert programming New Orleans has ever seen, featuring a 2013 fall lineup that included performances by Russell Brand, Black Crowes, Passion Pit and more.
Check out a few images of this excellent refit: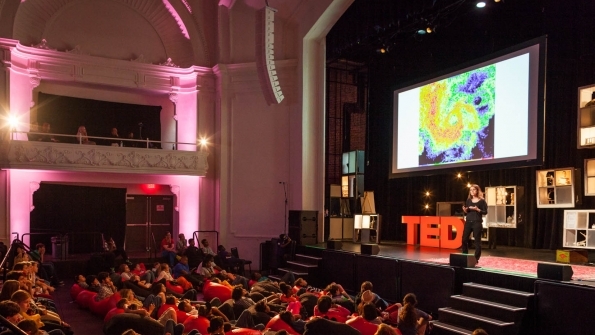 The Solomon Group used 40 of CHAUVET Professional's COLORado 2 Zoom Tour LED wash fixtures in their design along with the rest of their inventory on the project.  What a great looking venue!