KM Productions Takes LAND ROVER to CHAUVET Professional!
Posted on May 1, 2015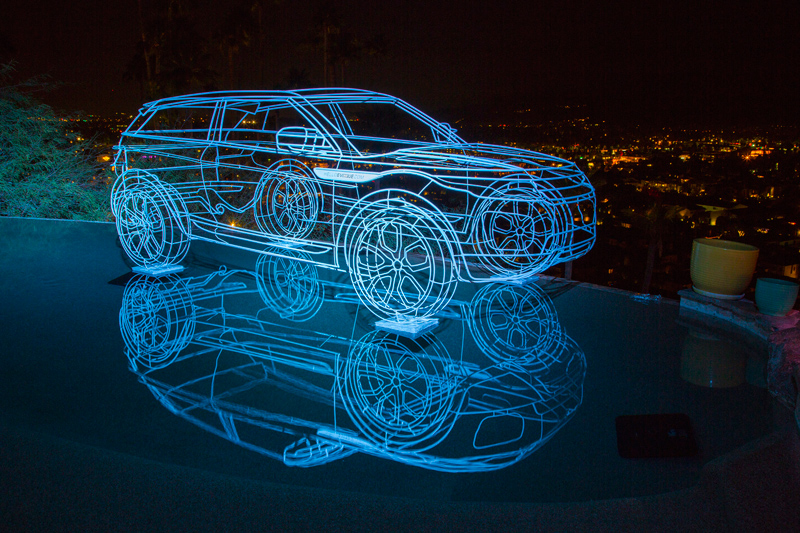 PALM SPRINGS, CA – Modernism Week is an annual Palm Springs event celebrating the architecture and lifestyle that characterized this SoCal enclave of the rich and famous back in the 1950s and '60s. Associating the term "modern" with a week dedicated to events of 60 years ago might seem oxymoronic, but the sustainable mid-century architecture of Palm Springs remains as cool today as it was back when Frank Sinatra raised a Jack Daniels flag over his home in the city to announce that parties would be taking place around his piano-shaped pool.
This coolness was very much on display at a VIP event during Modernism Week put on by Land Rover and illuminated by a collection of LED fixtures from CHAUVET Professional. Held at one of Palm Springs' most notable examples of mid-century architecture, Siva House, which was designed in 1959 by Hugh M. Kaptur, the event featured a cocktail reception and a design discussion by Land Rover Design Director and Chief Creative Officer Gerry McGovern from the company's Design Studio at Gaydon, Warwickshire in the UK.
McGovern spoke by a stunningly beautiful fluorescent wireframe replica of a Land Rover vehicle. Resting on a shimmering surface at the edge of a cliff overlooking the Coachella Valley, the see-through sculpture set an appropriately expansive tone for the proceedings, especially when it was accented with richly saturated colored light from a collection of COLORado 1 Tri-7 Tour and COLORdash Par-Quad 7 LED fixtures.
KM Productions, which did the lighting and sound for the event, positioned the fixtures approximately 20-feet from the "wire car." The fixtures were angled 45° off axis from the centerline of the vehicle. The company credits the CHAUVET Professional fixtures with helping it achieve the right combination of output and energy efficiency at an upscale project where power draw was an issue.
Given the transparent nature of the wire structure and the surroundings, the company wanted to deliver enough punch to make it glow. At the same time since this is a house, not a theater, concert hall or some similar venue, KM needed to be careful about how much power it was using. The company had only one 6500-watt generator to power all of the different lighting elements as well as sound for the entire house. "The Chauvet fixtures did the job of delivering a lot of punch for the power," according to Kevin Mignone, president of KM Productions.
Mignone also gave the CHAUVET Professional LED fixtures added praise for their color mixing capabilities. "The color rendering on these fixtures is impressive," he said. "You want to go through different colors to change moods and engage the audience — nothing beats LED fixtures in this regard." Indeed, in the pre-LED days of the 1950s and '60s, it's doubtful that even Frank Sinatra could have conjured up the magic produced by today's lighting fixtures.
# # #
For more on KM Productions visit www.km-productions.com